XNA xBox 360 Console Pictures
:
As Seen below in the pictures, the Quality of this console is suburb. The ability for Microsoft to build this console with one gigabyte of ram and massive Developer capabilities must have been Christmas when this was Released in 2009. As the pictures illustrate, they show that the Hard Drive area is Raised up with a beautiful blue tinted housing and the XNA Logo and elegant drawings on it's side.
The Eject Button, and the DVD Cover both Blue tinted also make the case beautiful in it's overall design. The software of the XNA xBox 360 Console is also to die for. If you have between $8,000 and $20,000 USD and actually find someone who has one or a developer who went out of Business and was selling theirs. This console would make anyone envious and has left many Gamers "Drooling" from and foaming from the mouth.
I am personally and have been looking all over for this Console and have found many Fakes or "White" Dev kits as their known. The actually XNA xBox 360 Console with it's Blue tinted Hard Drive, Eject Button and DVD Cover is extremely Hard To Find and if found please e-mail me here:
developmentalstudios@gmail.com
and send me pictures of it and i'll make you an offer, and in case you have and questions and or comment's please also email me.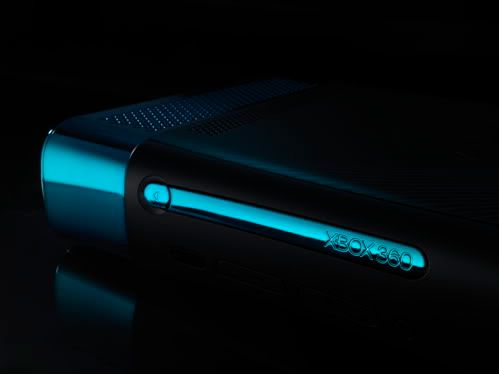 XNA xBox 360 Console Controller Pictures
:
This pictures Below illustrate the kind of "Craftsmen Ship" that went into this console. Microsoft did it's best when it created the XNA Console and Controllers. The controllers match the color and detail of the case to the T. Beautifully designed the Controllers really highlight the value that is the XNA xBox 360 Console. Envious of the developers who received one of these consoles and had the money for it. The XNA Controllers themselves alone would be sought after by anyone of the xBox 360 Community because of how "Sexy" and "Cool" they look. The feel of them I can only imagine.